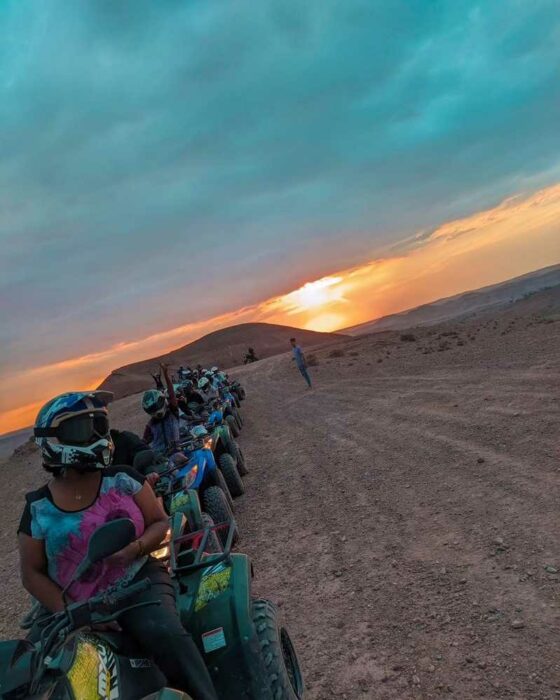 Welcome to Marrakech Quad Biking, the premier destination for exhilarating quad biking adventures in the heart of Marrakech. Our expert team of experienced guides and top-of-the-line quad bikes provide the ultimate off-road experience, showcasing the stunning natural landscapes of Marrakech like never before.
Quad biking is an adrenaline-fueled activity that's perfect for thrill-seekers and adventure enthusiasts alike. Whether you're a seasoned pro or a first-time rider, our tours are tailored to suit all levels of experience, making for an unforgettable journey that you won't soon forget.
At Marrakech Quad Biking, we pride ourselves on our top-notch equipment and highly-skilled team of guides. We provide all riders with top-of-the-line quad bikes that are specially designed to tackle the rugged terrain of Marrakech. Our guides are experts in their field and have an intimate knowledge of the local terrain, ensuring a safe and enjoyable ride for all.
Our tours are specifically designed to showcase the natural beauty of Marrakech. We offer a variety of routes that take riders through breathtaking mountain landscapes, across lush valleys and rivers, and through charming traditional Berber villages. With Quad Biking in Marrakech, you'll get to experience the real Morocco like never before.
Our tours are also highly customizable, allowing riders to tailor their experience to their unique preferences. Whether you're looking for a fast-paced adventure or a more relaxed, scenic ride, our team will work with you to create the perfect itinerary.
At Marrakech Quad Biking, safety is our top priority. All riders are provided with safety equipment and receive a comprehensive safety briefing before embarking on their tour. We also strictly adhere to all safety protocols and guidelines, ensuring a safe and enjoyable ride for all.
So what are you waiting for? Book your Quad Biking in Marrakech adventure today and experience the thrill of off-road quad biking like never before. With Marrakech Quad Biking, you'll discover a side of Marrakech that you never knew existed, and create memories that will last a lifetime.
BEING TRAVELERS OURSELVES, WE KNOW EXACTLY WHAT YOU'LL LOVE.
750
Quad Biking Tours COMPLETED